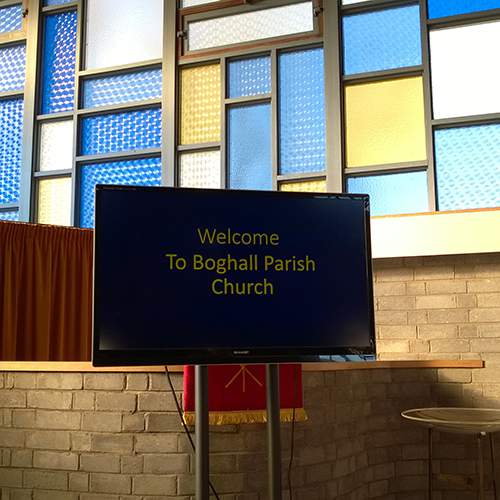 Our Building
Boghall Church is very much a non-traditional Church building. Its daring design, still striking inside and out after 50 years. Is mentioned in "A History of Scottish Architecture: From the Renaissance to the Present Day" By Miles Glendinning, Ranald MacInnes and Aonghus MacKechnie.
The building sits at the heart of the community and stands high on a hillside near the local primary school with magnificent views of the Bathgate Hills to the north of the church
The building creates a striking contrast to the linked older church hall and surrounding houses due to its usual roof deign.
The roof was designed by Wheeler and Sproson and built by Storrie of Fauldhouse. The roof is in the shape of a Hyperbolic Paraboloid.
Inside the building is simple in design with unpainted concrete walls and wooden pews arranged in a herringbone pattern. It has a polished wooden floor reflected by a curved polished wooden ceiling.
There are plain windows on two sides with stained glass in yellow and blue on the remaining sides in a Mondrian design.
All are welcome.